Dan Arita / DataHouse Founder
"I could not be happier with the leadership team of DataHouse and their vision for the future. Eddie and his team are poised to do incredible things for the people of Hawaiʻi and beyond."
Our Roots
In November 1975, DataHouse was born.
It was the vision of a local boy named Dan Arita who could see the writing on the wall: computers and technology were going to radically change the way Hawaiʻi does business—in both the government and private sectors. "DataHouse foresaw and actively prepared for the wave of automation in the state," recalls Dan. "I knew that software development would be a good, clean business for Hawaiʻi. And providing high tech jobs here would help stop the brain drain."
Forty years later, Dan's vision has become reality and the best is yet to come.
The DataHouse track record proves that the values and principles Dan set into place during the foundational years have created a launchpad for even greater success in the future. International awards, product patents, community service projects, the creation of multiple new companies, and Made-in-Hawaiʻi software innovations that are changing the way industries do business, are just the highlights of a legacy that Dan is proud to be passing on to a new generation.
View our interactive INNOVATION TIMELINE
Our Story
40 Years of Innovation
Experience the story of what happens when one local businessman puts everything on the line for a dream, and how that dream has become a reality that can take your business to the next level through the power of innovation, dynamic technology, and over forty years of wisdom, experience, and wild success.
Our Leaders
HONG PHAN
Chief Executive Officer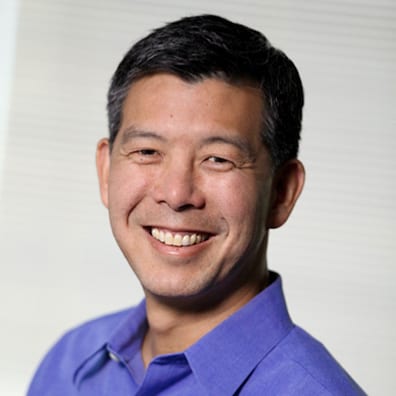 CLYDE SHIIGI
Chief Innovation Officer
Dennis McCormick
Chief Operations Officer
JEFF MASUMOTO
VP - Solutions & Consulting Services
SCOTT FUJIEDA
VP - Solutions & Consulting Services
Maggie Hamamoto
Chief Financial Officer
" There is no substitute for hard work."
DataHouse Culture
The culture and work lifestyle of DataHouse was established by founder Dan Arita in the late 1970s and was way ahead of its time. Today, the unique dynamics of DataHouse culture continue to allow for creative solution discovery, innovative exploration, and professional growth. As such, we treat our culture as a precious asset that invariably defines who we are collectively as a company and individually as consultants.
Who We Are as a Company
First and foremost, we value relationships and people. We support each other, our clients, and our community. We embody these values in our integrity, respectfulness, humility, and compassion.
We are passionately innovative and rely upon our technical expertise, creativity, teamwork, and courage to deliver successful solutions for our clients.
We thrive on self-empowerment and personal responsibility to continually learn and grow, care for ourselves and each other, and personify our DataHouse Core Values.
We are a "value-centric" IT Consulting company and strive to create value for our clients, for our community and for each other.
Who We Are as Consultants
We trust and value our co-workers and know that we all have each other's backs. We are ʻohana.
We are driven by our passion to partner with our clients to solve their business and technical problems.
We are constantly in a learning mindset so that our clients get the best value from our services.
"I am constantly inspired by the talented, hard-working, and passionate people that I'm surrounded by each day as we help our clients achieve their goals through technology and innovation."
– Sheri Matsuda, Project Manager
"DataHouse provides great opportunities to not only advance your technological skillset, but to work in a team that makes you feel proud of the work you produce for the clients."
– Abraham "Abe" Pineda, Software Engineer
Our Principles of Success
WORKING HARD
Rising to the challenge
There is no substitute for hard work. While creativity is the force that sets a project in motion, hard work and grit ensure its completion. We are fearless in taking on the difficult job and tenacious in getting it done. Everyone pitches in and teamwork gets us over the goal line. DataHouse professionals rise to the challenge. "DataHouse Would Go."
CREATIVITY
Charting our own paths
Our creativity transforms our imagination and ideas into reality. At DataHouse, the spirit of creativity drives our business. When existing solutions do not fit our clients' needs, we chart new paths to create the right solution. Creativity requires courage and risk taking. We support and inspire creativity by incubating new ideas and encouraging out-of-the-box thinking. In our creative mindset, failure is part of the learning process, empowering us to move forward.
LEADERSHIP
Becoming the gazelle
The nature of our business demands that we be fast, flexible, and agile in our leadership and in the way we work. DataHouse was designed from its beginning to be a gazelle, not an elephant. This includes everything from organizational structure, job roles, policies and procedures, decision-making, communications, solutions, and how we interact with ourselves and partners.
Our organizational structure is dynamic. At the end of the day, we all do whatever it takes.
Our titles describe our individual role to our partners, not our status.
Our work days and hours are flexible, what matters is getting the job done.
Our decision-making is quick and based on empowerment and accountability.
Our policies and procedures are for consistency, quality, and compliance, not bureaucracy.
LEARNING
Gaining wisdom through experience
At DataHouse, learning is a continuous journey. Through our consulting engagements, our staff become fluent in different industries, subject matter, and roles, including software development, client relations, team leadership, business analysis, and project management. Throughout this journey, we learn and gain the experience and confidence to excel further in our careers.
Along the way, employees may discover new areas of professional development and growth. We support individuals who take the initiative to pursue new skills. Self-directed professional development is key in an industry that changes so rapidly. Once an employee identifies an area of interest, DataHouse supports that employee through training programs, mentorships, and other enablement programs that align to the company's business strategies.
THE NEXT GENERATION
Bringing them home
DataHouse has made stopping Hawaiʻi's brain drain a top priority. From the beginning, our founder Dan Arita understood that information technology would play a key role in the future of not only Hawaiʻi, but globally. And finding locally available IT resources would be required for any business operating in their community. DataHouse was formed to fulfill that vision and we continue to believe that a vibrant IT economy is vital for any local community's future.
Bringing them home – the next generation is about creating this IT economy in Hawaiʻi and any local community we're a part of. We strive to offer challenging and rewarding careers to attract and nurture the best talent so that they become vested, contributing members of their communities and help pave the way for future generations. Specifically, for our Hawaiʻi-born youth, after graduating from top mainland universities, many opt to build careers elsewhere, hoping to someday return to friends and family. We bridge this gap by offering meaningful career opportunities back home with a high quality of life balance.
VIRTUAL ORGANIZATION
A company without walls
People are our greatest asset and we strive to make DataHouse a place where the best and brightest want to work. A company without walls reflects our philosophy of valuing our people by providing flexibility to live and work without location constraints. We organically became a virtual company when one of our best developers moved to another state for family reasons. In the days of dial-up lines and modems, we figured out a way for him to work effectively from the mainland. Today, your office can be anywhere you can connect to the Internet and effectively perform your job.
A company without walls also reflects our openness to include partners, customers, the community, and other stakeholders to expand our company into a true virtual organization. There is much to be done and we cannot do it all ourselves. We welcome others that are aligned with our purpose, culture, and strategic destination to be part of our virtual organization.
TEAMWORK
Many minds for one
Teamwork is paramount to DataHouse's success. The teamwork culture starts with the premise that everyone is valuable and assumes that everyone has a strong professional desire to create quality solutions for our clients by leading with their strengths. It allows us to be bigger than we really are. When a client is working with a single DataHouse employee, they soon come to realize that one person can represent all the cumulative knowledge of the entire DataHouse ʻohana — many minds for one.
PERSEVERANCE
A journey, not a destination
All of us are on a continuous journey in life. Perseverance is an individual trait that permeates the entire DataHouse ʻohana. The grit and resolve that enable us to weather the toughest storms and find fulfillment in our personal lives translate into the long-term perspective we bring to our partners to support them through the challenges of their journey. We will always be there to support our partners.
We see every project as a step along the journey that leads to each partner's success. Building trustful relationships among peers, partners and the community takes years. This bond becomes the foundation of business, ensures growth from year to year and aligns to our business philosophy: Clients are Our Partners.
SHARING THE WEALTH
Filling the cookie jar
The cookie jar is a metaphor for our shared contributions/shared reward philosophy. Everyone fills the cookie jar for everyone to enjoy. Likewise, everyone contributes to DataHouse's success and shares in the returns. Some fill it with cookies, some candy, some keep it clean. Everyone contributes in their own way whether it be finding work, building trusted relationships, solving customer problems, writing code, or managing HR and accounting. This shared contribution/shared reward philosophy permeates at all levels throughout DataHouse. Project team members all contribute to the success of the project and share in the recognition and rewards.
BUSINESS PHILOSOPHY
Clients are our partners
We see clients as strategic partners, not as opportunistic sources of revenue. Our goal is to establish a long-term, win-win relationship by caring for clients and actively contributing to their success. To achieve this goal, we choose our clients wisely, build trust and relationships, and always deliver on our commitments. We value long-term, meaningful engagements with our clients over short-term, profit-driven transactions.
Whether in Hawaiʻi, on the mainland, or internationally, we treat our clients with the same sense of caring and commitment. We are proud when mainland partners comment that our spirit differentiates us from other companies, and we carry our aloha spirit wherever we go.
PLAYING HARD
Laughs are on us
Joy and happiness are core to a person's well-being and "playing hard" is our way of expressing that, which goes far beyond company events and social activities. At DataHouse, it's a way of working. It's how we treat each other, and how we create an enjoyable and fulfilling place of work. Laughing and having fun is healthy for the soul and for business. Humility is an essential element of this principle and one of DataHouse's core values. You need to be humble to laugh at yourself and to make it fun and enjoyable for others.
COMMUNITY
Caring for our future
Whether the call is to clean up the beach or to use our technical skills to help others, the people of DataHouse all have that altruistic characteristic to offer support. Community and caring for our future speak to the heart of our purpose, which is to make our local and global communities better today and for future generations. It's about strengthening the community, caring for those who live next to us, and guarding the environment we live in.
We believe that by giving you the freedom to be at your best, we in turn can produce the best results for our clients.
Our Core Values
DataHouse is the founding member of the ʻike family of companies, a growing group of innovators, technologists, and entrepreneurs who are committed to leading the way within their industries to make Hawaiʻi and the world a better place to live. Every ʻike company shares the same core values and we are working together to make them a reality for the success of our clients, our communities, and our employees.
SPIRIT OF EXCELLENCE
We believe in always giving 100%, whether seen or unseen and that we are committed to achieving excellence together – through our successes as well as our shortcomings.
COURAGE
We believe in always doing the right thing and that true innovation comes from taking risks, being honest with ourselves and challenging each other.
DREAM RELEASING
We believe success is achieved by making others succeed, by enabling everyone on our team to reach their potential and realize their dreams.
HUMILITY
We believe success is always a team effort, and at the heart of our "ONE TEAM" philosophy is the ability to recognize our strengths but also recognizing the strengths in others.
GREATER GOOD
We believe that all blessings come when we give to others and that our main purpose is to positively impact our greater community.